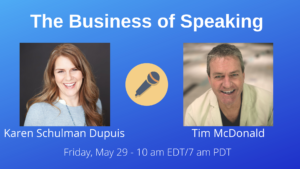 Join host Tim McDonald on The Business of Speaking Show as he's joined by guest Karen Schulman Dupuis to discuss how KSD got involved in speaking, learn about how it turned into a business and see what her thoughts are moving forward in today's uncertain economy.
Tune in LIVE on Friday, May 29, 2020, at 10:00am EDT on YouTube. If you can make it live, be sure to subscribe to our YouTube Channel and get notified when the video is added to our playlist.
Who is KarenSD?
A 2020 nominee for the RBC Women of Influence Canadian Women Entrepreneur Awards, and named one of BetaKit's 30 (then 40, then 80) Women in Canadian Tech Worth Following, Karen Schulman Dupuis (better known as KarenSD) is routinely called a 'force of nature'. She is a speaker, writer, an award-winning communicator, designer, teacher, mentor, and a shift disturber. Karen is a passionate supporter of women in their leadership and career trajectories, and a champion of diversity and inclusion as a growth strategy and a leadership competency.
Karen's work follows the principles of business design; the integration and intersection of marketing, operations, and strategy goals. She is an intrapreneur who has worked in technology since the early 1990s, and with startups and entrepreneurs for over 20 years. She has a specialty in digital and social media, and brings extensive experience in sales, business development, marketing and communications, product design and management, education and curricula design, operations, process design, business analysis, and project management. Karen has held roles with startups and large enterprises from Director to VP Strategy & Marketing to COO.
Karen is currently the principal consultant at Social Design, and a mentor at TechStars Toronto and the Roundhouse Accelerator. She has sat on the Boards of community, advocacy, arts, and technology organizations such as Women in Communications & Technology, Year of Code, Hive Waterloo, and Hamilton Artists Inc.
Karen recently graduated magna cum laude in her Master of Arts in Leadership through Royal Roads University, where her capstone research titled Women Disrupted: Centering Women's Voices for Social Change examined the question of how women, aged 40-64, responded to having their careers disrupted.
Connect with KarenSD on Twitter and LinkedIn
Feeling lost at how to move to virtual events as a speaker? Not confident about how to use Zoom to present or host workshops? Register for The Basics of Zoom for Speakers workshop on June 2.