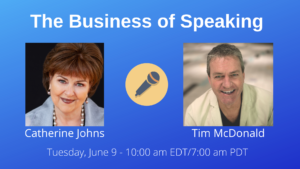 Join host Tim McDonald on The Business of Speaking Show as he's joined by guest Catherine Johns to discuss how she went from being on radio to getting involved in speaking, learn about how it turned into a business and see what her thoughts are during these changing times.
Tune in LIVE on Tuesday, June 9, 2020, at 10:00am EDT on YouTube. If you can't make it live, be sure to subscribe to our YouTube Channel and get notified when the video is added to our playlist.
Who is Catherine Johns?
What do audiences say about Catherine Johns?
• "THANK YOU for a terrific presentation! I love your message and style."
• "I really enjoyed hearing you speak. Your energy is contagious!"
• "What a thought-provoking discussion. I found your style and delivery very captivating!"
Along with speaking to business organizations, professional associations and women's groups,
Catherine coaches entrepreneurs and executives to craft a clear, compelling message and
deliver it with confidence and charisma so they can attract clients and referrals.
Midwesterners remember Catherine from her career in Chicago radio. As a news anchor, talk
show host, and morning show side-chick, she developed the ability to tell a riveting story,
inspire interaction, and dance with whatever happens next.
That radio background is a plus now that most speaking is virtual. Doing a Zoom presentation
has a lot in common with a radio talk show! And, Catherine looks forward to being back in the
room with her audiences sometime soon.
Catherine's book, Show Up & Shine: Simple Steps to Boost Your Confidence & Charisma offers
readers a roadmap to enhance their personal presence, change the way they're perceived, and
change the results they get.
Connect with Catherine onFacebook, LinkedIn and of course her website.