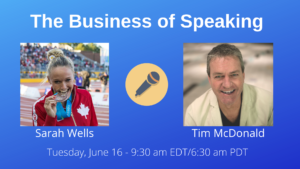 Join host Tim McDonald on The Business of Speaking Show as he's joined by guest Sarah Wells to discuss how she went from being an Olympic athlete to getting involved in speaking, learn about how it turned into a business and see what her thoughts are on being resiliant in uncertain times.
Tune in LIVE on Tuesday, June 16, 2020, at 9:30am EDT on YouTube. If you can't make it live, be sure to subscribe to our YouTube Channel and get notified when the video is added to our playlist.
Who is Sarah Wells?
Obstacles don't scare Sarah Wells. As an Olympic 400m hurdler, Sarah earned a reputation for overcoming challenges and achieving the "impossible".. Take her debut at the London Olympics in 2012, which came despite an injury that had her sidelined for months just the year before.
Outside of competitive sports, this athlete has coached organizations such as RBC, Salesforce, Kraft Heinz, P&G, CIBC and Bell on how to build more resilient teams. Most recently you would have seen Sarah pushing her limits on the latest season of the Amazing Race Canada, where she got to apply her tactics in a whole new kind of race! Evidently someone who understands the importance of being resilient and the power of purpose, you'll want to listen-up when this Olympic semi-finalist and Pan Am Games silver medallist takes the virtual stage.
Connect with Sarah on Twitter , Facebook, LinkedIn and of course her company site and her website.