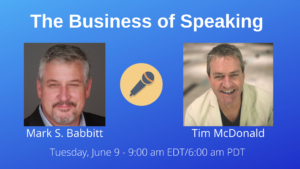 Join host Tim McDonald on The Business of Speaking Show as he's joined by guest Mark S. Babbitt to discuss how he got involved in speaking, learn about how it has turned into a business and see what his thoughts are during these changing times.
Tune in LIVE on Tuesday, June 9, 2020, at 9:00am EDT on YouTube. If you can't make it live, be sure to subscribe to our YouTube Channel and get notified when the video is added to our playlist.
Who is Mark S. Babbitt?
Mark S. Babbitt is President of WorqIQ, a community and change management consultancy that helps organizations understand leadership's impact on culture and their collective level of Workplace
Intelligence (WQ). Mark is also CEO and Founder of YouTern, a career site that enables college students and young professionals to find their first or next internship or job in the right organization for them.
Mark co-authored the best-seller A World Gone Social: How Companies Must Adapt to Survive. His next book, Good Comes First: How Organizations Create an Uncompromising Company Culture in a
Confrontational World comes out summer 2021. Mark's written words can also be found in
Entrepreneur, Inc., Forbes, Harvard Business Review and many other publications. An in-demand
speaker, Mark was named one of Inc. Magazines Top 100 Leadership Speakers.
Connect with Mark on Twitter, Facebook, and LinkedIn.