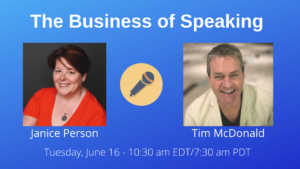 Join host Tim McDonald on The Business of Speaking Show as he's joined by guest Janice Person to discuss how she got involved in speaking, what she's learned along the way and how she's made it look easy transitioning to online and virtual events.
Tune in LIVE on Tuesday, June 16, 2020, at 10:30am EDT on YouTube. If you can't make it live, be sure to subscribe to our YouTube Channel and get notified when the video is added to our playlist.
Who is Janice Person?
Janice Person became known as JPlovesCOTTON for her tweets and blogging about her favorite fiber over the past decade as she was among the early adopters os social media. However, it is her role as a leading voice and advocate for connecting farmers and the public that really sets her apart. That is a major thrust behind her public speaking and communications consultancy, JPlovesCOTTON LLC.
A fourth-generation city girl from Memphis, Janice wasn't sure what she was getting into when she started working for some farm magazines. Decades later she's worked for magazines, a New York PR agency, a small cotton seed company and spent more than two decades with the industry's leading ag innovation firm. More recently, Janice has been immersed in the world of moms, foodies and millennials… The experiences and opinions that shape how they look at food and farming. Throughout those experiences, Janice has been taking notes, sharing lessons on how to improve connections between her urban tribes and those who call agriculture home. She shares that experience broadly through presentations at major events like SXSW as well as smaller farming venues.
When it comes to taking the stage, Janice finds herself utilizing storytelling to help more people develop curiosity about changes we are seeing in the world. She also does a lot of training on reaching out to groups or individuals about improving their online and interpersonal communications efforts. She launched a podcast called Grounded by the Farm in December that share farm and food stories. You can hear that in your favorite app or go to groundedbythefarm.com for posts that include photos and video to bring those farm stories to life.
Connect with Janice on Twitter , Facebook, LinkedIn , Instagram and of course her podcast and her website.