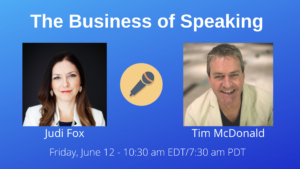 Join host Tim McDonald on The Business of Speaking Show as he's joined by guest Judi Fox to discuss how she got involved in speaking, learn about how it has turned into a business and see what her thoughts are during these changing times.
Tune in LIVE on Friday, June 12, 2020, at 10:30am EDT on YouTube. If you can't make it live, be sure to subscribe to our YouTube Channel and get notified when the video is added to our playlist.
Who is Judi Fox?
Judi Fox, generated over 5 million views on LinkedIn in the last 2 years, and has been featured places like: Inc Magazine, Vidsummit, Video Marketing World, People of Video, Top 100 Marketing Podcasts and more. With over 18 years experience in business development and sales. Judi fox developed the LinkedIn Business Accelerator coaching program, which gains clients millions of views on social media, increased sales, and more business opportunities.
Connect with Judi on her website, Instagram, and LinkedIn.