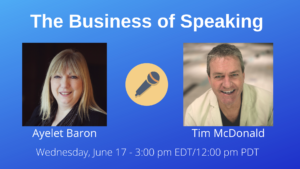 Join host Tim McDonald on The Business of Speaking Show as he's joined by guest Ayelet Baron to discuss how she got involved in speaking, what she's learned along the way and how she uses speaking to support her love of writing.
Tune in LIVE on Wednesday, June 17, 2020, at 3:00pm EDT on YouTube. If you can't make it live, be sure to subscribe to our YouTube Channel and get notified when the video is added to our playlist.
Who is Ayelet Baron?
Ayelet offers medicine to the soul as an author. speaker. guide. Former Cisco strategist. She is a top Global Thinkers 360 leader on Future of Work and Culture. Top 50 Forbes Female Futurists. Award winning author of Our Journey to Corporate Sanity. Contributor to Thinkers50 CEO Dear CEO. Her first of three book series will be published in Fall 2020, F*ck the Bucket List for the Soul: Discover the Wonder of You. She believes that we're here to create, and not live in outrage and despair but with deep meaning —and it's going to take a great deal of individual and collective work of reimagining how to connect with ourselves and jump off the pages of how we were instructed to live our life. We can sit back and ask for a meeting with the architects of humanity, or we can reflect deeply on this the question of what our own role is in this deeply divided world—and then become increasingly aware that when we lead together, with our combined power, humanity can find its deeper unity.
Connect with Ayelet on Twitter , Facebook, LinkedIn , Instagram and find her writings on Thrive Global, Medium and her website.