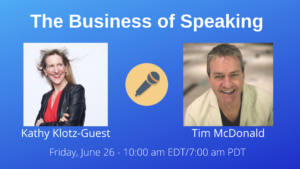 Join host Tim McDonald on The Business of Speaking Show as he's joined by guest Kathy Klotz-Guest to discuss how she got involved in speaking, how improv has made an impact in her business and if it's possible to be serious and funny at the same time.
Tune in LIVE on Friday, June 26, 2020, at 10:00am EDT on YouTube. If you can't make it live, be sure to subscribe to our YouTube Channel and get notified when the video is added to our playlist.
Who is Kathy Klotz-Guest?
A former Silicon Valley executive (leading teams for over a decade) and a trained improviser for over 20 years, Kathy Klotz-Guest combines her business and improv comedy backgrounds to help people and teams unleash more of their creative and storytelling superpowers for happiness and growth.
Her clients include Cisco Systems, Amazon, and Kaiser Permanente.
The founder of Keeping it Human, Kathy has been featured in Forbes and The Huffington Post, and is a popular speaker at conferences such as SXSW. Inc.com named her book, "Stop Boring Me!" a must-read for chief marketing officers.
Kathy has an MA and MBA from Stanford University and UC Berkeley. She studied at ComedySportz and at LA's Second City. Described as one of the Bay Area's funniest former tech execs, she's thrilled her 11 year old still thinks she's funny.
Connect with Kathy on Twitter, LinkedIn, and of course her website Keeping It Human.
Want to receive exclusive content not available on The Business of Speaking Show or blog? Join our community for free and subscribe to our weekly newsletter.