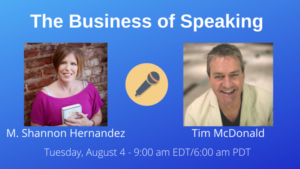 Join host Tim McDonald on The Business of Speaking Show with M. Shannon Hernandez to discuss about how she went from a teaching career to launching a business and started speaking. Learn how the business of speaking has evolved over the years for Shannon and how she has created a sustainable speaking business with her content.
Tune in LIVE on Tuesday, August 4, 2020, at 9:00am EDT on YouTube. If you can't make it live, be sure to subscribe to our YouTube Channel and get notified when the video is added to our playlist.
Who is M. Shannon Hernandez?
M. Shannon Hernandez is not your average entrepreneur. After a 15 year public teaching career, she jumped feet first into her journey as a business owner, and within just a few years, she had built a multi-six figure business.
A sought after expert in the world of content marketing and strategy, Shannon is known globally as the creator of the Content Personality™ Wheel. In 2016 Shannon founded The Confident Expert™ Program, where she champions and rallies coaches and consultants, teaching them how to market their businesses from a place of intuition, integrity, and JOY–and make a shit-ton of money in the process.
Shannon has been featured on CBS, ABC, The Boston Globe, The Huffington Post, FOX, and NBC. She is committed to ongoing philanthropic work to bring housing, fresh food and water sources, and medical care to those who do not have access. When she is not speaking and teaching globally, you will find her reading fiction, snuggling her cat, traveling the world, and hanging with the love of her life.
You can connect with Shannon in her Facebook Group and find her on her business website and on her personal website.
Want to receive exclusive content not available on The Business of Speaking Show or blog? Join our community for free and subscribe to our weekly newsletter.