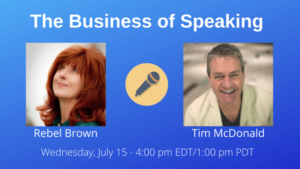 Join host Tim McDonald on The Business of Speaking Show with Rebel Brown to discuss how she's taken a past full of varied careers and turned it into a successful and anything but traditional speaking business.
Tune in LIVE on Wednesday, July 15, 2020, at 4:00pm EDT on YouTube. If you can't make it live, be sure to subscribe to our YouTube Channel and get notified when the video is added to our playlist.
Who is Rebel Brown?
From disruptive start-ups to companies seeking expansive growth to billion dollar turnarounds, Rebel navigates chaos to find strategic advantage in any economy or situation.
Chaos is comfortable for Rebel. She knows how to navigate and leverage it to find the "hidden in plain sight" breakthroughs that redefine your status quo. All with a double dose of fun and straight up shot of reality. Get ready for anything but a "one size fits all" approach.
Rebel's background is unique, to say the least. Her business experience ranges from the complexity of hightech and bioscience to multi-level marketing companies to non-profits. Her personal adventures have taken her from a minor in philosophy to deep studies of ancient texts, esoteric practices and hidden knowledge beyond modern science. Expect anything but a traditional consultant, speaker or coach.
Rebel's most excellent adventures include:
As a recognized market/product strategist and turnaround expert, at 30 she was named one of the Top 100 Women in Computing.
Fueling growth in over 300 global organizations, creating strategies to go to market and capture profitable market advantage.
Partnering with US and European venture firms to successfully fund and launch portfolio businesses. Over $500M raised.
Publishing in major media such as First Business TV, Forbes, Inc, CIO, Entrepreneur, Business Insider, Huffington Post STEM and Business Week.
Expanding her journey to become a certified trainer of mind management techniques such as hypnotherapy, neural linguistics, mind shifting, cognitive behavioral coach, and EPONA-based coaching with horses.
You can with Rebel on Facebook, LinkedIn, and YouTube, and of course, her website.
Want to receive exclusive content not available on The Business of Speaking Show or blog? Join our community for free and subscribe to our weekly newsletter.