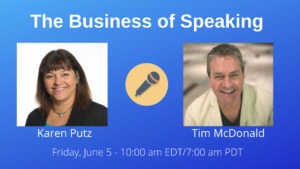 Join host Tim McDonald on The Business of Speaking Show as he's joined by guest Karen Putz to discuss how she got involved in speaking, learn about how it turned into a business and see what her thoughts are moving forward in today's uncertain economy.
Tune in LIVE on Friday, June 5, 2020, at 10:00am EDT on YouTube. If you can't make it live, be sure to subscribe to our YouTube Channel and get notified when the video is added to our playlist.
Who is Karen Putz?
Karen Putz is known as "The Passion Mentor." She is the author of several books, including "Unwrapping Your Passion, Creating the Life You Truly Want." Karen was born with normal hearing and became hard of hearing in elementary school. She became deaf as a teen from a fall while barefoot water skiing. At the age of 44, she got back on the water and competed for four years. Today, she helps others unwrap their passion and create more joy, fun, and adventure in their lives.
Connect with Karen on Twitter , Facebook, Instagram and of course her website.