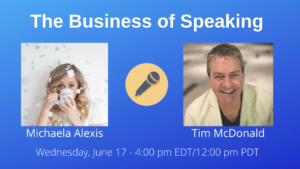 Join host Tim McDonald on The Business of Speaking Show as he's joined by guest Michaela Alexis to discuss how she turned a LinkedIn post that went viral into a successful speaking career.
Tune in LIVE on Wednesday, June 17, 2020, at 4:00pm EDT on YouTube. If you can't make it live, be sure to subscribe to our YouTube Channel and get notified when the video is added to our playlist.
Who is Michaela Alexis?
Hailing from Ottawa, Michaela Alexis is currently one of North America's most in-demand speakers on topics related to LinkedIn. Her journey started in March 2016 when an article she wrote about landing her dream job went viral on LinkedIn. Since then, she has replicated that success, with dozens of articles receiving millions of reads, featured on the likes of CNBC, Success.com, Buzzfeed, Inc. and more. Over the past decade, Michaela has managed the online presence of more than 100 businesses worldwide, partnered on and starred in brand campaigns with Crowne Plaza hotels and K-Swiss, built her community to over 160,000 followers on LinkedIn, has starred in an Amazon Prime reality TV show called "The Social Movement" and co-wrote a book called Think Video: Smart Video Marketing and #Influencing. More recently, Michaela became an official LinkedIn Learning instructor and author of "Grow your Business with LinkedIn Pages", the first official course on LinkedIn Pages.
Connect with Michaela Alexis on Twitter , Facebook, LinkedIn , Instagram, LinkedIn Page and check out her website.