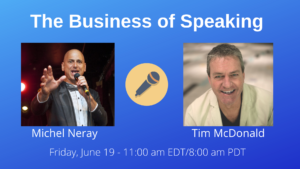 Join host Tim McDonald on The Business of Speaking Show as he's joined by guest Michel Neray to discuss how he recognized embracing his differences as a child built a foundation for helping others with their branding and positioning based on their unique differences. His turned it into a successful speaking career by not only helping people identify their differences, but also on how to communicate it powerfully through 'Purposeful Storytelling'.
Tune in LIVE on Friday, June 19, 2020, at 11:00am EDT on YouTube. If you can't make it live, be sure to subscribe to our YouTube Channel and get notified when the video is added to our playlist.
Who is Michel Neray?
Michel Neray knows what it's like to feel 'different'. Born to a Jewish mother from France who had survived Auschwitz, and a Jewish father who fled Iran during WWII to join the French Foreign Legion, his parents settled in Montreal to start a new life and raise their family. Michel grew up as a French-speaking Jewish kid in an English Protestant school in a province that was overwhelmingly French Catholic.
Having a girl's name didn't help him blend in either.
Rather than hide his differences, he learned to embrace them. Michel credits his early childhood experiences for the foundation of his unique expertise in branding and positioning. Today, Michel is widely considered an expert in helping organizations and individuals discover and communicate their greatest strengths and differentiation, enabling them to succeed both personally and professionally.
"If you want to discover your true difference," says Michel, "you have to dig deeper than traditional marketing approaches to see what is quite likely right in front of your nose."
A naturally dynamic, fun and engaging speaker, Michel helps his audiences discover their unique differentiation, and communicate it powerfully through 'Purposeful Storytelling'.
That's the most basic building block that enables individuals and companies to be the best at what they do; to have stronger relationships and better rapport with customers, colleagues, family and friends; to stand out from the crowd and make a difference; to provide exceptional customer service driven by a genuine desire to help; and above all else, to lead a more fulfilled, more effective professional and personal life.
For his corporate clients, it's also the key to stronger brand positioning, sales focus and market messaging. Some of his clients have reported sales increases of 60% as a result of working with Michel.
In 1995 Michel founded Portfolios Online, the world's first Internet search engine for advertising and creative professionals. Michel co-authored The Great Crossover, which made it to Jack Canfield's Achiever's Recommended Reading List. In 2005, his chapter, "Everything Starts With A Conversation" was selected as the lead for the book, Sales Gurus Speak Out and then again for Awakening The Workplace Volume 3. He has an MBA from McGill University, a BSc from the University of Waterloo and is also a Master Practitioner of Neuro-Linguistic Programming (NLP).
Since 2008, Michel has held leadership positions in the Canadian Association of Professional Speakers, and has spoken professionally in more than eight countries. In 2012, he created momondays, an entertaining monthly show based on inspiring, personal storytelling that has since expanded to multiple cities in Canada and the U.S.
He's married with three children, three snowboards, two canoes and a black belt in Karate.
Connect with Michel Neray on Twitter , Facebook, LinkedIn , YouTube, and check out his website.