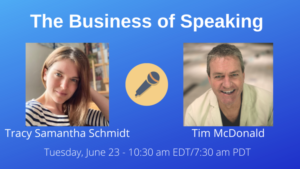 Join host Tim McDonald on The Business of Speaking Show as he's joined by guest Tracy Samantha Schmidt to discuss how she got involved in speaking after starting her career as a journalist, what she's learned along the way and how she uses social media to support her business.
Tune in LIVE on Tuesday, June 23, 2020, at 10:30am EDT on YouTube. If you can't make it live, be sure to subscribe to our YouTube Channel and get notified when the video is added to our playlist.
Who is Tracy Samantha Schmidt?
The founder of Socially Authentic, Tracy Samantha Schmidt has 15 years of experience working for top media outlets, as well as cutting-edge marketing, communications, and advertising teams.
Tracy began her career as a journalist at TIME Magazine, where she covered the rise of social media and developed new strategies for reporting breaking stories.
She went on to co-found the Tribune's ground-breaking ChicagoNow.com and to create the company's nationwide digital marketing education program. She later led global social media strategy for Crain Communications, publisher of 18 business titles, including Advertising Age.
A passionate educator, Tracy has delivered social media training programs to thousands of people across the United States. She has also taught several marketing courses at the University of Chicago and been a frequent guest on CBS & ABC.
Connect with Tracy on Twitter , LinkedIn , Instagram and her website.