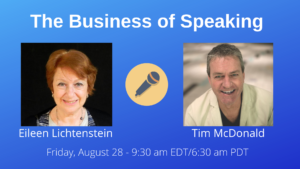 Join host Tim McDonald on The Business of Speaking Show with Eileen Lichtenstein to discuss how she got started speaking, the way it's turned into part of her business and what she has learned along the way.
Tune in LIVE on Friday, August 28, 2020, at 9:30am EDT on YouTube. If you can't make it live, be sure to subscribe to our YouTube Channel and get notified when the video is added to our playlist.
Who is Eileen Lichtenstein?
Eileen Lichtenstein, MS. Ed. CEO, Balance & Power, Inc., is a Peak Performance Success Coach for Your Life and Career!
Helping you and your organizations be Positive, Productive and Powerful with effective DeStress, Anger Management and Communication tools.
She is a Certified Anger Management Specialist (CAMS), EFT (Emotional FreedomTechniques) , Life-Career Coach and Author SOAR! withResilience® eBooks/Products, working with individuals, couples and groups. She facilitates interactive trainings for anger control/ stress management and to boost confidence, productivity, focus, critical thinking, creativity and well being. Eileen integrates EFT and Mindfulness Based Stress Reduction into her sessions and trainings for optimal productivity and well being.
You can with Eileen on Facebook, LinkedIn, Twitter and Pinterest, and of course on her blog and website Balance & Power, Inc.
Want to receive exclusive content not available on The Business of Speaking Show or blog? Join our community for free and subscribe to our weekly newsletter.