What if you have a passion for theatre but changed directions to pursue being a doctor? You find it again when you start speaking during medical school and beginning your career as a doctor. A unique way to connect with people that captures their interest and doesn't just present the facts.
This is part of Deborah Gilboa, MD's story of how she got to be on the stage. It was by having to give talks to get new patients, that she learned she could take her experience from the theatre and incorporate it into speaking. The best part is that you don't need to give up your 'day' job to do it. Learn how Deborah, aka Ask Dr G, keeps the medical and speaking businesses separate but gets to enjoy both of them, all while being a mom of 4 boys.
Other insights in this episode of The Business of Speaking:
Take clues from experiences you've had and build on them. Dr. G was able to use her knowledge of American Sign Language that she had from theatre and have it help with patients. This got other doctors wanting to learn from her and got her speaking as she was in residency.
Our brains want detailed advice from those we know and trust, but big ideas come better from someone we don't know.
Never accept a "No" from someone who doesn't have the power to give you a "Yes."
The one thing they don't teach you in medical school, or theater, is business. Learn how to apply one idea from things your hear and read into your speaking business.
When you feel like you're not landing with your audience, try asking a question. See if it gives you something to make it better than it would have been if you just kept going.
The first person you should add to your team as a speaker is not marketing, PR or a VA, but someone who negotiates on your behalf.
If you have trouble viewing the video, check it out on YouTube. Be sure to subscribe to our YouTube Channel and get notified when new shows are added.
Who is Dr. Deborah Gilboa?
We have been told to "reduce stress" and "avoid stress" so much that experiencing stress feels like its own failure. Deborah Gilboa, MD, aka Dr. G, is a parenting and resilience expert who works with families, organizations, and businesses to identify the mindset and strategies to turn stress to an advantage and create resilience through personal accountability and a completely different approach to adversity..
Renowned for her contagious humor, Dr. G inspires audiences with her illuminating stories and provides no-nonsense prescriptions for character development. She works with groups, businesses, and causes, across multiple generations, to rewire their cultures towards a common objective.
Dr. G is a board certified attending family physician at Pittsburgh's Squirrel Hill Health Center, caring for diverse patients from 100+ countries who speak 61 different languages. Her fluency in American Sign Language and her work with the Deaf community has received national recognition and was the focus of her service as an Albert Schweitzer Fellow.
A graduate of University of Pittsburgh's School of Medicine, Carnegie Mellon University, and as an alumna of Chicago's Second City Improv Theater, Dr. G's diverse background and experiences add to her credibility and lively storytelling.
She is also a Clinical Associate Professor for the University of Pittsburgh School Of Medicine and has received many awards for clinical excellence in teaching, including the Alpha Omega Alpha Volunteer Clinical Faculty Award.
Dr. G is a leading media personality seen regularly on TODAY, Good Morning America and is the Resilience Expert for The Doctors. She is also a contributor to Washington Post, The New Times, Huffington Post, and countless other digital and print outlets.
Dr. G resides in Pittsburgh with her four boys.
For more information: www.askdoctorg.com
You can connect with Debi on Instagram, LinkedIn, Twitter and Facebook, and of course on her website, AskDrG.com.
Want to receive exclusive content not available on The Business of Speaking Show or blog? Subscribe to our weekly newsletter.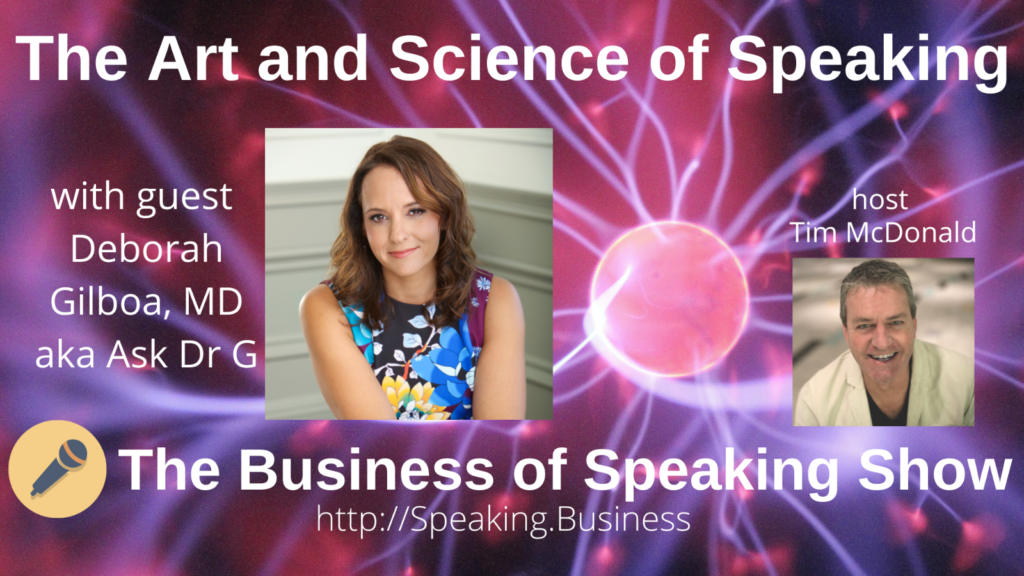 Below is the full transcript from the show. Please note that there may be some errors as it was auto transcribed using Otter.ai. (referral link that provides us with a 1-month Premium Pass
Tim McDonald
All right. Well welcome everybody to the business of speaking show. I am your host, Tim McDonald, and today I am joined by Dr. G. How you doing, Debi?
Deborah Gilboa, MD
I'm doing very well. I'm so glad to be here. Oh, no, it's exciting.
Tim McDonald
I remember we first connected through speak aid 2020 that Dan Pontefract but on and so it's great to be connected with you and have you as a guest here today. And for those who maybe just tuning in for the first time are watching the business is speaking show really doesn't focus on what the speakers talk about on the stage. It's about their journey on how they got to the stage and what they've learned since they've been on the stage as far as how speaking has turned into a business for them. And so with that being said, if you are thinking about getting started in speaking if you are just starting in speaking, or as 2020 has taught us, no matter how seasoned we are, as speakers, you never know what you have to prepare for. So there's always something that all of us can learn. But mainly we're focused on those people in the early stages, or just getting started in speaking and so with that, Dr. G, why don't you share your story of how you got started speaking.
Deborah Gilboa, MD
So I went to undergrad for theater. And when I finished that experience, I went out and I worked in professional theater as a performer and as a stage manager, and I did that for about six years. And then at some point, I decided this was fun, but I wanted to do something entirely different. And I applied to medical school. And one of the reasons that I mentioned my theater background is because when I got to medical school, I discovered two things. One, most physicians are not great speakers. So we would have lectures 150 people and a professor would get up in front and for us senseless and make really even interesting information seem painful and dreadful very quickly. And the other thing I discovered is that whenever we had small groups or opportunities to present something to the class, I was about the only person who wanted to you know, I come In this world, where people would throw their grandmother under a bus to speak in front of 10 people, and here it was in a world where people would rather have a root canal than get up in front of 150 people. And so those two experiences sort of coalesced for me into a larger worldview, where public speaking is not something everyone enjoys or does decently. And then I just finished medical school, I went to residency, I had a particular interest in residency because my life in theater had partially been in the world of Deaf theater. I picked up American Sign Language, and then I trained as an interpreter. So I had this other gig that informed my work as a doctor i was i was the doctor for a bunch of Deaf and Hard of Hearing folks. And that's something that not a lot of doctors knew how to handle. So people would ask me to come and speak. And again, I discovered that it was a pretty low bar, or coherent at all entertaining public speaking in the medical world. So when I finished residency and I came back to my home area, I got hired at a new health center, meaning brand new the day we opened our doors. And so we had this opportunity, but also this challenge to let people know that we existed as a health center. The CEO of our health center said to me, Well, you don't have that many patients yet, would you go out and give talks in the community? And so I did, you know, I would get invited to come and speak about high blood pressure and why you should take care of it or smoking and why it was bad. I mean, basically, these were like 40 minute public service announcements, and I thought I would be really bored sitting through a 40 minute public service announcement. So I started to dive into material and understand better how to talk to people. And what I discovered, then was that this was a great way to reach groups of people and get them to just see something that they already felt pretty expert in their own health and see it a little differently. So here I was in a position where I was speaking. And afterwards people would say, Oh, hey, I really enjoyed that. Is there someplace that I can read more about your work or see you speak again? And I would say, Make an appointment, which is not really the answer that they were looking for or that I meant the gift. So that led me to the stage and reminded me that just because I had decided not to work professionally in theater, didn't mean I had to give up that relationship, that medium for distributing information. And then I had a couple of formative experiences in my medical practice where I realized what it was I want it to be talking about. So that experience of getting back to the stage and then realizing the message that I really wanted to be out there speaking about coalesce to the great time.
Tim McDonald
Yeah, and so and I know I, I kind of prefaced an intro of the show by saying we don't talk about what you talk about on the stage. But I think this is so important for somebody getting involved in speaking to understand is how did you kind of know that this is what you needed to be focusing on and sharing with your your audiences?
Deborah Gilboa, MD
The thing that I've always really loved about the power of speaking is not just, you know, there's one of you and you get to reach a lot of people. It's Can you help people start to see something differently? There's some research that shows that, you know, Tim, if you wanted advice about where I got my car detailed, you know, you're my neighbor, my car always looks really nice. This is, by the way, not at all true. It's just an example. My car always looks really nice. And you're like, oh, there's somebody doing a good job. I wonder if she's spending a lot of money on that or what it is, you would ask me for my, for my suggestion for you, you would want my advice about where to go for that because you know, me and you trust me. And that's how our brains work. If we want detailed advice about something really specific. We only want to go to someone we already trust, but for our brains to accepting new big idea that we think we already understand and are knowledgeable about we have to hear about that someone we don't know that our brain pathways, our neural pathways actually open differently. When we're hearing something from someone who is a stranger to us, we can know their reputation. That's okay. We can have heard of them, but we can't know them. So for people who are just starting out there, and they might have tried, you know, people say, well go to people, you know, and see if your people at your kids school or at your church or at your Lions Club want you to speak there. Those never go very well. Because those people feel that they already know you. And so their brains don't give you an opportunity to teach them about a topic they already feel knowledgeable about. That idea of how do you take something that makes you see something fundamentally differently even if it just turns the lens 13 degrees? That's always been to me the real magic of that stage two audience relationship. So I had a moment in my work. That was really reinforced again and again and again because I don't do subtlety well, so I had to learn this lesson a bunch of times. And that lesson was helping me see something about people's sense of well being and health and success in life slightly differently. And then I realized this is it, this is something I want to research more about and lend my credibility to and gain more credibility in and get out there. And really magnify.
Tim McDonald
Hey, this is I just love hearing this. And you sharing this? Um, you know, I'm thinking it sounds like you had the, you know, the theater background to give you the kind of the confidence of being up on stage you had the medical or the people around.
Deborah Gilboa, MD
Yeah.
Tim McDonald
And the medical training of understanding what you were talking about the subject matter of what you're talking about, what I'm kind of curious about, was there something about when you really focused on becoming a speaker and not just a doctor?
Deborah Gilboa, MD
Right. I mean, it's it's part and parcel. What other things did you have to learn that the theater and medical school didn't teach you? business? Right medical school, by the way, anybody out there who thinks medical school teaches you the business of medicine is sadly mistaken. People go and get masters in that, or they hire people good at that. But it's, it's considered sort of, I don't know, poisonous to be worried about dollars and cents and business relationships and HR, it shouldn't be. But it's not at all taught. And also similarly getting my bachelor's in theater. It was about the art. It was not about and it is now but it was not at the time at all about spreadsheets and organizational charts and all that. So I had to figure out not only how I might set up a business, but how other businesses worked, so that I could even figure out who to talk to I heard this great business speech years ago where they said, never accept a no from someone who doesn't have the power to give you a Yes. And I would love to pass that along to everyone who's listening. never accept no as an answer from someone in an organization who doesn't have the power to say yes. Because then you're not talking to the decision maker, you're just talking to someone who wants to get you off their to do list. And that right there made me realize both something very valuable and also more about what I didn't know. Because I didn't, I was like, Well, how am I supposed to know if this person could say yes, and if they can't, how am I supposed to figure out who could and how do I get to them and all of those things. And that's been a lot of the learning that I've done in the last nine years.
Tim McDonald
And what resources have you found outside of that one, you know, one piece of advice that you got, what resources as far as organizations, books, people that have really helped you on this business aspect.
Deborah Gilboa, MD
Part of it is being a lateral thinker. Part of it is every podcast, every video, every radio story, news story that you hear magazine article that you pick up having that part of your brain that says, How could this help me be successful, open for business and applying that thing that you heard on a news story about a new lemonade stand, and figuring out what the lesson is there for you in your business relationships. And I think that I have a lot of these one liners that stuck out to me from a talk I went to or a thing I heard or a conversation I was involved in, you know, another one that really has helped me a lot in my business is knowing that every time you say yes to something, and my theater background, in improv, in particular, and improvisation means that I want to say yes to everything. There's this ethic of Yes. And how else can we work together, and that's often valuable to me. It led me to speak aid. It's led me to a lot of the opportunities I had where someone said, here's an opportunity You want it? And I say, Yeah, absolutely. But remembering that every time you say yes to something, you're saying no to something else, and making sure that your yeses match your priorities. That's been really important for me. Because when I say yes to something, sometimes what I'm saying no to is just, you know, sleep, or exercise or watching Netflix with my kids. But if health is one of my priorities than sleep, maybe I shouldn't say no to it all the time. And if my family is one of my priorities, then Netflix with my kids isn't something I should say no to all the time to making sure that I recognize the cost of my yeses. And in a, in an authentic way. Nothing. Nothing is without some cost, just making sure that I pay attention to it. And that in general, my yeses, match my priorities. That's been really helpful. So taking these one idea here, one idea there and recognizing that every zoom coffee you might have with someone Or porch the porch conversation or news story you listen to on the radio can be valuable. I can't say that there's one resource that I can point to that's been a huge wealth of information. There are a few people and Dan Pontefract is one of them. And so is a guy named Michael Roderick, who has a great podcast called Access to Anyone. and a bunch of other resources as well. There are some people where I find wisdom there repeatedly. And so I'll read that daily email like actually read it, not even just delete it, save it until I have a chance to read it, even though it comes every day. Because so often there's something there that I can take away.
Tim McDonald
Now, that's great. And I just love how small Our world is when you mentioned somebody else that we have in common. Michael Roderick. I knew him when I was in New York. So it was he's just a wonderful connector and sharer of information and his network. So I'm just, you know, I'm really curious in your nine years, I think You said you've been speaking.
Deborah Gilboa, MD
Yeah, I joke all the time. I'm one year away from the 10 years necessary to become an overnight sensation.
Tim McDonald
What you know, has there been any times where you've been up on stage and just felt like you just didn't deliver and you just missed your you screwed up or, you know, any types of failures that you felt along the way. And I'm kind of processing this because I kind of feel like you're the person that doesn't look at anything as a failure, that you can always learn from it and move on.
Deborah Gilboa, MD
There have been times, I would say, a dozen times at least where I've been on stage, and I wasn't, you know, the feeling when you reach out to someone you've just met for a good handshake. Now, I understand this is very 2019 example, but go with me, that feeling of reaching out for a good handshake and they clap your hand, and it feels soft. You know, you don't know where the relationship is going. But that handshake went well. Well, I think a lot of speakers can understand the feeling of standing in front of a group, whether it's hands or in person feeling the handshake go? Well, you don't know if they're gonna take the information that you're giving and use it or what they'll think about you afterwards but you know, you reach they reached out back in you connected? Well, I've certainly had the experience on stage at least a dozen times of knowing that I missed their hand, or we scratched each other I got a weak grasp or something like it was not solidly connecting. And at earlier in my career, I would just, I would just keep muddling powering through however you want to put it and get off stage going like, won't want one. Didn't it didn't go. And one of the things that I learned to do is the same thing that I do in the office when I'm seeing a patient. And I can tell that our conversation or communication is not landing, that either not asking the right questions with the suggestions I'm giving don't make sense or the diagnosis that I'm leaning towards. doesn't come true for this person, I have learned to say, Hey, I feel like this isn't landing well for you. What could I be hearing or saying or doing better that would help you? And then I wait for an answer. And I realized I could do that same thing on stage. I could say, hey, this isn't landing well. Or I feel like, you know, I so appreciate the attention everyone's giving me. I feel like I'm not really connecting with you tonight. Does anybody have any suggestions for me in ways that would make our time the rest of our time together? Go more fruitfully. And one time in particular, someone stood up and took the audience microphone and said, you know, Dr. G, we just all as we were coming in, found out that there's been a death in our community. And so, and she kind of teared up and sat back down. And I said, Excuse me, just one second, and I went I got a stool from off stage. And I sat down on the stool and mind you, I'm still what, eight feet above people physically. But I sat down and I said, so sorry for your loss. And I just sat there quietly for a minute. And then I said, it can feel so impossible to take that in. And I said, I don't need to know who this person was. And I don't need to know who they are to you or to your family, you know. And really, that's what we're here talking about tonight. Because what I talked about is resilience. We're here talking about how you're an expert in your experience. I've just got some strategies that you might try when you hit obstacles. And so I don't think I you know, tried to profit off that loss in any way. I just tried to bring it as real moment. And so sometimes when you really feel like you're not landing, if you can ask a question, get back what you need to make it better than it would have been if it had been going well in the first place. But I think that the most frustrating thing for me is to feel like it's like a, you know, like a B plus. kind of experience for everybody, but you're not really knocking it out of the park.
Tim McDonald
Well, thank you for sharing that. I think that's a great, great story. And a great lesson that all of us can learn is actually reading our audience and understanding that,
Deborah Gilboa, MD
I should say, there's a disclaimer, you can say that and then get just met with a really uncomfortable silence. And then I usually just say, Well, I'm sure that this uncomfortable silence has made it all much better. Let me try this in a different way. And then I just am what I'm doing. I say so instead of giving you the prepared remarks that I had, what I'd like to do right now is ask you to think of three words that and that's where improv experience improvisation really does help.
Tim McDonald
Yes. Um, so, you know, I know you mentioned you still see patients and you do speak. Can you kind of share how those two things work? As far as the business model goes? Are they two separate things? Does one help the other do they both help each other? You're entirely separate logistically.
Deborah Gilboa, MD
I would say that for sure. In my bio and when people are thinking about bringing me in to speak, and I do a lot of media, that it is really helpful to people, they will sometimes say, you know, are you still practicing? And when I say yes, that gives them that gives them more of a sense of credibility, even though as it happens, my topic is not medical at all. But in general I, I see patient Sundays and Mondays and although I have called weeks that I'm on call him and I'm seeing patients in the hospital in general, I see patients in person Sundays and Mondays and I work on my business, you know, nine days a week around that.
Tim McDonald
Well, my final question to you is looking back on your almost 10 year, overnight success, if you could go back to when you started in the speaking business, is there one piece of advice that you would give your younger self that you know now that you didn't know back then
Deborah Gilboa, MD
This is not me searching for one. This is me searching on among dozens for one that I think is most, most generalizable. I would say that if you are, if you are able to have anyone else on your team, anyone, but one person I would pick is not a marketing person. It's not a PR person. It's not even although it's amazing, a wonderful VA. It is someone who will negotiate on your behalf. Because other people who believe in the work that you do, can ask for an amount of money, a schedule, a thing that you just couldn't bring yourself to ask for for yourself. And along with that, that person isn't as emotionally tied to your work as you are, and so they can see the value of speaking somewhere that you've never considered speaking, or bartering. One of the things I tell new speakers all the time is you should get compensated for your work, but it's very beginning you may not get compensated much in money. So can this person offer you the physical you know, pictures and video professional pictures and video of the work that you do for them testimonials for the work that you do for them warm handoff introductions to other people who are decision makers in their field, not at their company they already brought you in, or their organization but in their field. So what how can you be compensated? Sometimes that's a paycheck, but it doesn't have to start off being a paycheck and having that other person to associate for you and ask for more things usually, then you're willing to when you're creating that new speaker to client relationship?
Tim McDonald
No, fantastic. Thank you so much for sharing that and being our guest today, Dr. G. And for those of you watching, if you haven't seen one of these before, what happens is Oh, before I do this, I forgot to ask you this is me. My first screw up at the end of the show. But can you tell everybody how they can find you how they can get in touch with you if they're interested in learning more about your work? Dr. G?
Deborah Gilboa, MD
Absolutely. Easiest way is through my website, it's askdrg.com.
Tim McDonald
Well, thank you so much. And for those of you who are watching for the first time, what we do is we cut off the YouTube channel right now, but we are going to go and stay recording and I'm going to ask Dr. G one more question that is only going to be available exclusively to our email subscribers. So if you head over to speaking.business, and sign up for our weekly email list, you will be able to get exclusive content that will only be shared there. So thank you for watching and thank you again for joining us today.